Student Council
2020-22
2019-21
2018-20
2017-19
2016-18
2015-16
2014-15
2013-14
2012-13
2011-12
2010-11
Student Council Committee Members 2020-2022 (Online)
Class Representatives
Jasmine Parulekar
Aditi Shanbag
Student Extension Managers
Priyanka Singh
Kiranjyot Mankoo
The General Secretary Report 2020-2022
Student Council Committee Members 2019-2021

F.Y. B.Ed.

General Secretary
Larissa Periera
Student Magazine Editor
Anna George
Council Members
Dipali Chaudhary
Suchitra Pillai
Student Extension Managers
Purnima Shetty
The General Secretary Report 2019-2021
Student Council Committee Members 2018-2020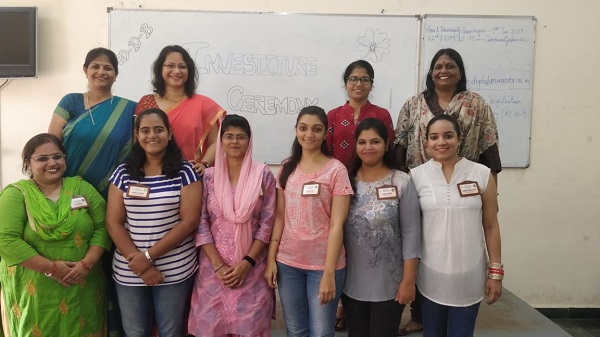 F.Y. B.Ed.

General Secretary
Harwinder Kaur
Student Magazine Editor
Archana Jha
Pooja Talreja
Council Members
Enpreet Arora
Dipali Indalkar
Student Extension Managers
Pooja Joshi
Kalyani Kiri
Ambika Jha
The General Secretary Report 2018-2020
Student Council Committee Members 2017-2019
General Secretary
Deepa Vinod
Student Magazine Editor
Mrunal Dhabolkar
Preeti Sakpal
Council Members
Elria Monteiro
Arshee Sayed
Student Extension Managers
Abhiyanka Chandrashekhar
The General Secretary Report 2017-2019
Student Council Committee Members 2016-2018

F.Y. B.Ed.

General Secretary
Annu Binoy Joseph
Student Magazine Editor
Aldrian Augustine
Yogita Patil
Council Members
Renu Sharma
Sanjana Gandhi
Student Extension Managers
Kanchan Sharma
Shanoli Ghosh
The General Secretary Report 2016-2018
The General Secretary's Report
A PATH TOWARDS SELF – PROGRESS….
Teena Johny
General Secretary of B.Ed.
The year started and pretty soon we had an event to showcase our talents. On the 12th September 2015, many of our classmates participated and were rewarded in the competitions held by MES' Pillai College of Education and Research, Chembur. We celebrated Teachers' day and Hindi Diwas in style, and learnt a lot about organizing, planning and executing an event correctly.
We were oriented, inducted and prepared for Community Service. What was waiting for us was more than mere marks; it was an experience of a lifetime. Most of us had never given an underprivileged anything more than a thought, and here we were giving them something more valuable – Time. Our principal Ms. Sally Enos said, it was the most valuable thing we could donate, and I am sure many of us didn't agree. We could think of many more things that they would need, a little time from us didn't seem enough. But Low and below, we each saw that the little we spared went a mile long for them. It meant for them what it could never have meant for us. And we embarked on an amazing journey of community teaching for the slum kids, where we mostly got more than we could give.
Mahatma Gandhi – "The best way to find yourself is to lose yourself in the service of others."
In keeping with the college tradition, we celebrated the 'Joy of Giving' week by collecting and later distributing the toys, books and other things at Immanuel Mercy Home, Panvel. Friendship day was celebrated with nature. Dr. Pratima Pradhan, Ms. Geeta S. Thakur and Ms. Alpana Sharma, along with others, planted trees in a plantation drive organized by an NGO in collaboration with Forest Department of Thane and some others.
We celebrated democracy and equality in college, and went through the entire process of elections for the post of the General Secretary and of Council Members. We proposed, rallied, and voted for the leaders that would be the class representatives for the next two years. And during the investiture ceremony each of the chosen leaders and students in charge of the magazine were announced. The entire process had the ambience of an actual electoral proceeding.
Our college arranged for educational visit to Urban Haat to fair or Craft, Food and Cultural activities that was being held in Belapur. The college emphasized that our participation was deeply expected and appreciated in all activities especially the college Garba-Dandiya festival in which we all participated in and enjoyed to the core.
The college held a National level Seminar to commemorate 2015 as the International year of soil. And we learnt a lot about the types and other technical information about soil. What we took home was the session we enjoyed the most, POTTERY. We made tiny clay pots and other things with our hands and enjoyed our day in the mud so very much that Ms. Geeta S. Thakur and the other teachers organized a visit for us to the Khalcha Khorda Village to learn more about the craft of Pottery. Also on the Seminar itinerary was a visit by Sri Lankan teachers and Science Officers. What a beautiful exchange of ideas and views it was. There was so much to take away from the day.
"You've gotta dance like there's nobody watching." – William W. Purkey
In collaboration with Jyothis Clinic, Kamothe, we presented a Skit in their clinic and performed a Flash Mob at the ST Bus Depot, Panvel to do our little bit for World Aids Day. On their request, we performed again at the Belapur Railway Station to create awareness about World Condom Day.
The Semester 1 exams interrupted our routine, and soon we were back to regular college. While the new syllabus insists on the Constructivist, the teachers were reluctant to send us on a spree without proper training. So we had a week of teaching Micro-skills before the start of our much dreaded internship. We were going headlong into something we had no clue about.
We were privileged to be able help the teachers host the Degree Distribution Ceremony for the last year B.Ed., M.Ed. and B.P.Ed. students. Soon it was the Republic Day and we were a part of the school parade. It was wonderful to be a part of the march past after such a long time. MES society celebrated 23rd January 2016, as Uber Rang Fest, where we took our Trifed slum kids for the day. It had been wonderful to give them a day of respite and change.
"I will prepare and some day my chance will come." – Abraham Lincoln
Litty Varghese and I got the wonderful opportunity to participate in the Indian Youth Parliament organized by Bharatiya Chhatra Sansad of MIT Pune. I gave the inaugural speech which was well received and the entire experience provided so much learning for both of us. The conference lasted from 27th to 30th January, 2016.
Soon after our internship lasted a month long, interspersed with some amount of training on making Teaching Aids. And oh what fun we had learning from our fellow teachers and the new school environment. Our teachers were very pleased with our performance and so were we.
Dr. Geeta R. Thakur conducted a saree draping session with us. We also had a session about Micro plants and their benefits. Both of these sessions were quite helpful and fun. We celebrated Saree day just to take pics and what fun we had doing it. Geeta ma'am also conducted a panel discussion on the Anti-Raging Cell.
On the 29th February 2016, we celebrated Marathi Diwas and learnt a lot about the local language, culture and traditions. Alumni Mrudula Naik took a workshop with us and taught us three of our ancient scripts. She made the learning interactive and fun.
Jiddu Krishnamurti – "To understand the immeasurable, the mind must be extraordinarily quiet, still."
To help us with our stress and to rejuvenate our minds, the college organized for a weekly meditation session. Through the EPC module, we learnt about the Navarasas and the teachers organized a session, with experts to help us understand and learn better. The session also included learning about how to use the performance arts to teach pedagogies.
On 8th March 2016, we celebrated International Women's day in style and like never before. We had organized, planned and executed a street play to be performed near the Trifed slums to create awareness about educating the girl child. The play was a success and dearly appreciated.
On 10th March 2016, Rajendra Kumar took us through the session on Origami and Craft-Paper making. Transforming a piece of plain paper into something beautiful, and useful is an experience both adults and children can truly appreciate. We also had a Dynamic workshop conducted by Alumni, Bharti Iyer. She taught us dynamic exercises to refresh our minds and bodies.
Yvette, the college counselor took counseling sessions for us and emphasized on the importance of a sound mind for a teacher. We were given the opportunity to attend the felicitation ceremony organized by Soroptimist International at the Pillai campus, Panvel, on the 2nd April, 2016. Many important lessons of life were discussed and the learning we took away was of so much relevance.
Hillary Rodham Clinton – "We cannot eradicate violence if we do not build strong, inclusive communities."
Inclusive Education is going to be the future reality, and we are the least prepared for it. Thanks to our teachers and the principal, we got to be a part of the National Level Seminar on Inclusive Education on 7th April, 2016. We got to hear experts speak and the opportunity to ask questions. While we may still not be well equipped to handle the shift, it may just be a little smoother.
As we watched the year pass by, we stopped to reflect on the change it brought in us. And we realized that none of the good that came to pass would have been possible without our lovely teachers and the principal. We await another year before we are qualified for the post of teachers. But what is qualification really, is it the certificate that we receive or journey that we went through, the learning we put to practice. What good is knowledge if not used to propel others forward.
If I stand at the peak I am alone,
If I stand at the bottom I am left alone,
Its when I stand among friends,
That life finds its true end.
Elections for Student Council – 28th October, 2015
Elections for the Student Council was held on 28th October, 2015. The Council took a pledge to carry on their onus in the rightful and democratic manner. On the same day, student editors for the magazine SPARK were also selected.
From Left to Right
Standing: Dr. T.A. James, Ms. Pradnya Jadhav, Ms. Geeta S. Thakur, Ms. Alpana Sharma, Ms. Prerana Panjari, Ms. Bindu S. Tambe, Ms. Mayuri Jadhav
Seated: Dr. Geeta R. Thakur, Dr. Latha Venkataraman, Dr. Sally Enos, Shri. A. L. Tripathi, Dr. Pratima Pradhan, Mrs. Bhavna Dave, Ms. Namrata Saxena
Kneeling: Ms. Khyati Raja, Ms. Vrushali Gaikwad, Mr. Sanjay Patil, Mr. Indresh Parmar, Ms. Sumaiya Khot, Ms. Catherin Prisilla
The General Secretary's Report
A TOAST FOR ALL….
It is true that we cannot achieve high goals in life until we are focused. We cannot alone travel the journey called 'life.' We cannot alone chase the challenges and hurdles of life, we need someone… some ray of hope, some mentor to enlighten us and some temple of learning to shape our thoughts. By god's grace I got Pillai College as a beautiful place to explore myself.
It gives me immense pleasure to present forth you all, my General Secretary report and share the journey of one entire year in this temple of learning- Pillai College of Education and Research, Panvel with some of the brightest minds that my college has.
We started our new session of B.Ed. – 2014-15 with a lovely orientation in the month of August by our respected teachers. It was the time when we all had tightened our seat belts for a thrilling roller coaster ride that we were to experience throughout this academic year 2014-15. And it all started with Micro skills. It was then, when we realised that teaching is not one task but, a skill comprising of multiple challenging stages-one being the micro skills. The presentations went smoothly by the grace of our teachers and guides in the first week of August.
It is well said that – You Can Only Have More For Yourself, By Giving It Away To Others
And 'giving' is the synonym of teaching. And a good teacher is the one who is full of values and high morals in life. Keeping this thought intact, our next session was on Core elements and values by Ms. Namrata Saxena. Ma'am very enthusiastically expressed the needs of having values within oneself and then imparting it to others. This workshop was tremendously important to revive our actual role as humans, first.
Living in a democracy and not actually tasting it, is no fun. Following the policy of democratic elections, our college made each one feel like the real leaders standing for its people. I am talking about the much liked elections for the post of GS and students council leaders. Experiencing the entire voting, campaigning and the feeling of being the face of the class was tremendously thrilling. Finally the class elected its students leaders for the academic year-2014-15. Also, the students in-charge for our Annual Magazine 2014-15 were announced by Asst. Prof. Geeta S. Thakur – the in-charge of Magazine.
One needs to learn to teach, and keep teaching to learn more. It was time for our macro lessons, the practice lessons in various schools in and around Panvel. Under the superb planning of our practice teaching in-charge- Dr. Geeta R. Thakur and Mrs. Bindu Tambe, total 20 practice lessons for English + Hindi + Commerce groups were planned in a very orderly manner. This was the actual time where each one of us got the real feel of being a teacher. Trust me, its one challenging task… but the sense of satisfaction that each one got after finishing the lessons is overwhelming. I thank my college for all the guidance and support. Simultaneously we were oriented with various simulated lessons like CAM, ITM and power point presentations by all our guides.
Working relentlessly to achieve our goal for this academic year, made each one a bit stressed out at some point in time. Having a perfect blend of masti, mazak and padhai, we geared up for several amazing treats for ourselves.
First being the Teachers' day celebration on 5th September, 2014. As a tribute to all the teachers and thanking them for who we are, for shaping our lives smilingly and for accepting us the way we are, each students had put up a lovely show on Teachers' day. It really made us bond better.
Entering the auspicious week of Navratri, on 8th September, 2014 our college had planned bombastic garba and dandiya celebration under the guidance of our Extra-Curricular in-charges- Ms. Bhavna Dave and Ms. Alpana Sharma. Participating in full numbers – B.Ed. and M.Ed. students looked their best in the garba costumes. Various prizes were given to best dancers and best costume person. After a tiring stretch of dancing for long hours we were treated with yummy snacks. Keeping the enthusiasm alive, we conducted Cultural competitions of Mehendi, rangoli, best out of waste, greeting card making and flower making in the campus. It received the best participation and some of us got a great opportunity to showcase our hidden talents after years.
We also had Hindi Divas celebration to mark the importance and use of Hindi language in the country on 16th September, 2014. The day inspired everyone to speak in our national language and not only respect it but also be proud of it. Under the guidance of Ms. Pradhnya Jadhav and other teachers, students expressed the vital role of Hindi language in their life.
To be an inspiring leader one has to be an inspiration. Setting the tone right, our college conducted Community service under the supervision of Ms. Alpana Sharma and Ms. Mayuri Jadhav. Shram daan done for 3 days in Shantivan, Old age home and Seal Ashram near Panvel in the month of October, made us face the strange realities of life. It was an awesome feeling of being of use to others. Realising the fact that how blessed we are, there was a total personality shift within us after a tremendous service done for Community.
Not only this, two of our extravagant students – Ms. Khyati Raja and Ms. Madhu Singh got selected for the India's largest Indian Youth Parliament, that is Bharatiya Chhatra Sansad organised on 10th, 11th and 12th January, 2015 at a humungous scale by MIT Institute, Pune. Khyati got selected amongst several noted students speakers in and around the world.
As the tradition, MES society celebrated 24th January, 2015 a fest called UBER-RANG wherein we took NGO kids from Balgram and Immanuel Mercy Home, Panvel to Pillai campus for one whole day. They were served with food and lots of interesting games were organised at a large scale for each NGO. At the end the students were given prizes for winning several competitions. Mingling along with destitute was a beautiful feeling. Not to forget our beautiful Bengali dance guided by Ms. Bhavna Dave and Ms. Geeta S. Thakur won 2nd prize in the Uber-Rang festival. What a moment of pride for each one of us to see their efforts being paid off.
It is said that meditation is a way to talk to that supreme soul. To inspire the young and budding professionals, our students and teachers attended a talk on Meditation by CIDCO VP – Mr. Bhatia. Sir gave an insight into how lives today have become mechanical. We need to slow down and spend time with that supreme power that created us. It was a very enlightening session for all.
Next was the time of rejuvenating our souls and celebrating back to school days where each one enthusiastically played indoor and outdoor sports. In the month of October, under the planning of Ms. Geeta S. Thakur and Ms. Prerna Panjari and our very vivacious group of B.P.Ed. students, we organised sports day. Inspiring us to have the sense of participation within us and keeping up the spirit of sportsmanship high, each teacher and students lived this day to the fullest.
Amidst all this, we had class-tests, preparatory exams and our teachers rest assured that all of us pass with flying colours in Semester-1 University examinations. It was in the month of December, 2014 that Semester-1 examinations happened. Each student geared for the exams. It is an honor to announce that we all fared superbly well in exams and I guess, to some extent kept our teachers' hopes alive. It could not have been this easy without our principal ma'am's words of wisdom and teacher's support. Thank you each one once again.
Coming back to the academic aspect, next we had was Evaluation workshop conducted by all the teacher educators in the start of the new year-2015. Expressing the importance of evaluating students, proper way of conducting the assessments, which we never knew could be such a task, we conducted it in the groups based on each method. This workshop gave us a peep in one of the finer aspect of teaching, i:e, evaluating the students. Indeed, a very new and challenging job for us.
Our college keeps full track of providing updated knowledge to its students. Our college had planned a TKT workshop on 15th January, 2015 by Ms. Sanoyti Talwar and Mr. Sarfaraz Khall. They poke about English language proficiency and the significance of knowing proper English for personality grooming of a teacher. We were so convinced that many students even opted to give exams on several modules.
Next in pipeline was Action Research project which sounded very new and difficult at the start. Right from planning the tool till the analysis stage and the viva-voce we were behind our respective guides for the silliest doubts we had during this entire course. The Action Research in-charge Ms. Prarna Panjari kept updating us. It was a new learning to conduct our own research and do a higher level analysis.
Entering the month of February, 2015, we began planning for internship in various schools for a period of one whole week. The teacher in-charge Dr. Geeta R. Thakur oriented us about our jobs during internship. Right from teaching till corrections, lab work till conducting sports, organising Assembly to taking proxy classes to handling the discipline and administration part of the work, internship made us respect this profession even more. This much multi-tasking and yet showing up smilingly the next day needs a lot of love and passion. Thanks to my college for giving us this sense of realisation.
We got this great opportunity to host Degree Distribution Convocation ceremony for the College as well as University rankers on 2nd February, 2015. It was highly inspiring and motivating to meet some of the brilliant lot of students who are now soaring great heights in their career. Interacting with them was a good learning.
Educational visit to Dr. Pillai Global Academy on 6th February, 2015 left everyone spell bound. The student teachers were amazed at the school's infrastructure, ambience, state-of-art technology in each classroom and the other facilities. The visit aimed at giving exposure to the IGCSE and IB curriculum.
Here comes the thrill- Picnic to Shiva Ganga Water Park in Rasayani on 18th February, 2015. Right from playing water games, laughing, having sumptuous meal, getting to explore each other we had it all. Thanks to our picnic in-charge Ms. Geeta S. Thakur for such a lovely day. Really made us feel like we were all in schools with no burden of studies on us.
As a part of our well-being club, our college organised cancer-awareness talk by Mr. Vijay Gokhle on 16th February, 2015. Sir expressed the need top be aware of how and what this disease is and it is curable. There was also a session by Dr. Mohite on women's health issues. Ma'am also highlighted the importance if having healthy lifestyle to give birth to a healthy generation. Both the sessions were very effective and indeed, eye-opening.
To mark the essence of mother tongue- what we call as Mathru bhasha, our college celebrated this day on 27th February, 2015. It was a remarkable day in B.Ed. whole session. It was fun-filled day where all the students tried to speak in Marathi language. Some students explained the importance of Marathi language as well as the ancient literature in Marathi language like Bhasud, poems, shlok, Abhang etc.
The experience was indeed memorable. As a part of women empowerment cell- Mumbai University had organised a 3 day camp on self-defense training for women. Our faculty Ms. Alpana Sharma along with 4 student teachers of our class had attended the session in Mangaon, Raigad. This camp highlighted some of the defense techniques women must be aware of. Along with this several sessions on health, judo and boxing were also taught.
Entering the month of March, marking the celebration for International Women's Day in 8th March, 2015 our B.Ed. and M.Ed. students along with B.P.Ed. students conducted a rally in Khanda Colony highlighting the empowered women and an era where both men and women are competing at the same level. This rally was a symbol of freedom, expression and empowerment dedicated to all women of the world.
Lastly, expressing the need and greed to be mindful in life and live a quality life, our college had planned a workshop on 'Being mindful' by Ms. Jagneet Anand and Ms. Minu Joshi on 31st March, 2015. They spoke about how important it is to be aware of the titan within us and to direct out thoughts towards positivity. The session also had some session on meditation and how the right attitude in life can take us far.
Amidst all this hectic schedule and rigourous working hours, our students took extra efforts to bring accolades to our college reputation by winning several competitions in the colleges held across Mumbai. Nothing would have been so well-planned, systematic and successful without each teacher's help and Principal ma'am DR. Sally Enos's vision. I extend my heartfelt gratitude to each of my teacher.
Though this journey remains to go on, as relations of heart never die, we the students of B.Ed: 2014-15 depart to rise and shine again in the upcoming Semester-2 examinations in the month of May.
God bless all..!!
Student Council Election – 21st August, 2014
From Left to Right
Standing: Kamna Lote, Zainab Lokhandwala, Smitha Muddalgundi, Smitha Kurup, Shabnoor Masoom, Shaily Shah
Seated: Mrs. Chitra More, Mrs. Bhavna Dave, Mrs. Geeta R. Thakur, Shri. A. L. Tripathi, Dr. Sally Enos, Mrs. Devanshi Praveen, Mrs. Bindu Tambe, Mrs. Geeta S. Thakur
The General Secretary's Report
"Live as if you were to die tomorrow. Learn as if you were to live forever."
These simple yet meaningful words by Mahatma Gandhi mean a lot to me.
I also believe that "Teaching is the highest form of understanding"
I would love to say that, these are my words but Aristotle might not agree to that. When we all came forward to get into the noblest profession of Teaching, we never thought that our lives would change dramatically over the next nine months. Each one of us had few ideas about teaching, for some, it was a responsible position, for others, it was what they wanted to do. With all these individualistic ideas, we the B.Ed. batch of 2013-2014, came forward for our orientation on 3rd August, 2013 to Pillai College of Education and Research, New Panvel. We all had certain ideas, hopes, dreams, thoughts about how it might be, but none of us was prepared for the life – altering experience it turned out to be.
We were all warmly greeted by our most respected Principal Dr. Sally Enos, who introduced us to all our teachers, and also familiarized us with the course. Our Principal Madam explained to us that, we were all going to be known as 'Student-Teachers, and that fact, in itself, made all of us feel very important. We were all made aware, that the B.Ed. course is going to be a continuous process with different activities coming one after the other, and we have to do our best in all of them. It has to be mentioned that the way our Principal Madam spoke, felt like nothing but 'motivation personified.'
Micro Skills
It is a known fact that to accomplish any task successfully, we must always begin with the smallest detail pertaining to that task. Thus, in order to become the effective teachers, we were exposed to the intricacies of teaching-learning process in the form of Micro Skills in the very first week of our college. We were given demonstrations on various skills like Set Induction, Questioning, Explanation, Blackboard Work, Illustrating with Examples, Reinforcement and Closure by our dedicated teachers, whose endless support and efforts, enabled all of us to work together in groups and prepare our lesson plans.
Workshop on Objectives and Specifications
Objectives and Specifications are very important for the teachers, as they help to define their expectations from the students as well as evaluate the achievement of set objectives. This workshop was conducted by Mrs. Devanshi Praveen and Mrs. Geeta R. Thakur, after dividing the class into two groups, so that better explanation and comprehension could be achieved, and doubts could be clarified.
Workshop on Core Element and Values
Values are extremely essential for the complete development of a growing mind. A teacher has an excellent opportunity, to impart and in still these values in the minds of children, as they spend most part of their day in the school. So, keeping this in focus, a workshop on Core Elements and Values was conducted by Mrs. Namrata Saxena on 14th August, 2013. We were explained how we can put across these values to the children, no matter, what methods we taught.
Workshop on Instructional Material Preparation
Time and again, we have been taught that reading the textbook and explaining, is not the right way to impart education. Teaching has to be done in such a manner, that the child's attention and interest, and curiosity, are piqued and sustained. For this purpose, we have to use certain teaching aids and our teacher educator Mrs. Geeta R. Thakur showed us on 24th August, 2013, exactly how it can be done. The most important aspect is, that all the materials used were economical, easily available and easy to make as well. Some of the aids shown, left most of us spellbound since they were so simple yet extremely effective.
Macro Lessons
Macro Lessons – in other words Practice Teaching was handled by Mrs. Devanshi Praveen. When we were thorough with our Micro Lessons and Integrated Lessons, Macro Lessons were introduced to us. These lessons brought out the actual scenario of a school system. It was a learning experience for all of us. Devanshi Madam made sure that everyone got equal opportunity to complete 20 lessons. There is no doubt that a lot of hard work, thought and time went into the process of making the time table. Some of the schools that were assigned to us were, MES School and Junior College, CKT School and Junior College, KES School.
Selection of A Student Council
India is a Democratic nation; hence threading the path of democracy, the council members were elected. These student teacher representatives would act as a cordial bridge between the student teachers and the faculty. Many volunteers came forward for the post of General Secretary and the Council Members. The election for the post of council members took place on 31st August, 2013. It was conducted in a Democratic manner wherein every candidate has had equal opportunity to campaign and appeal for votes. All the students eagerly participated in the voting process, and voted for their favourite candidates. Five Council Members were elected, Mrs. Zainab Lokhandwala (Academics), Mrs. Kamna Lote (Discipline and Hygiene), Miss. Shaily Shah (Extended Activities), Miss. Shabnoor M. (Cultural Activities) and Mrs. Smitha M. (Sports Activities). It was a very humbling moment for me as I was elected as the General Secretary for this Academic Year.
The students in charge for our Annual Magazine "SPARK" were also announced; they were Mrs. Ichha Mehrotra and Mrs. Sudha K. for the English section and Mrs. Shweta Singh for the Hindi section.
5th September – Teachers's Day
This day will forever remain etched in our memory lane. We, the members of the student council were given the responsibility to conduct the B.Ed. session for this day. It was a huge responsibility placed on our shoulders, along with it was the impeccable trust of our Principal Madam and our Student Teacher Educators. Moreover, it was the first time that a B.Ed. class was entrusted with this kind of responsibility, that too in the absence of our educators. With great pride I would like to say that we were successful in our efforts, and also would like to believe that we were able to live up to expectations.
It goes without saying that it was successful because of total co-operation from all the student teachers, who were present this day. The day began with an Assembly Session conducted by Mrs. Kamna Lote and Miss. Shaily Shah, followed by a group discussion on the first Essay Test. There was a session on Acupressure given by Mrs. Kamna Lote, which was very informative and interesting, followed by lunch break. After the break, time was allotted for dance practice for the Teachers' Day Celebration which was to take place on 7th September.
Teachers' Day Celebrations
Time constraints, lesson plans, simulated lessons and essay tests, all these did not deter us from putting up an excellent cultural extravaganza for our teachers. We celebrated the Teachers' Day on 7th September, 2013 with lots of fun and frolic. This day our first essay test was also conducted, but that too did not stop us from having fun. All the participants looked absolutely stunning in their attires. Students' participation was maximum and our efforts were applauded greatly by all the teachers.
According to our Principal Madam, it was the best cultural performance ever put forward by any B.Ed. batch. We all were extremely happy that we could entertain our teachers and provide them some respite from their busy schedule. The event was successfully managed under the able guidance of the cultural teacher in-charge Asst Prof Mrs. Chitra More and student council member Miss. Shabnoor M.
Simulated Teaching
Today's students are global students; their attention cannot always be sustained by using regular teaching methods. We, as to be teachers, need to give them something more, make them think more actively and also allow them to participate in the teaching learning process. According to our teachers, this can be achieved by the simulated lessons like Information Transfer, Creative Lesson, Concept Attainment Model (CAM), Power Point Presentations, and Inquiry Training Model (ITM). So we were given demonstrations on each technique in the respective methods. We were encouraged to use these simulations in our practice teaching, so that we could create interest among the students and sustain it as well.
Hindi Divas Celebration
Hindi Divas was celebrated on 14th September, 2013. The Hindi speaking student teachers under the guidance of our teacher Ms. Pradnya Jadhav took the initiative to make this day memorable. Within a days' time, they were ready with a set of activities like poems by literary scholars, comic play and a song. They all looked beautiful in their attires.
Seminar on Child Sexual Abuse
National Award winning writer and Social Campaigner Mrs. Pinki Virani is among India's best selling authors whose single-handed work, gives voice to individuals who have none. We were very fortunate to gain first hand information on Child Sexual Abuse from Pinki Virani on 14th September, 2013. How to identify the problem and what precautions can be taken were explained to us in detail. Ms. Virani pointed out that one in every four girls under the age of sixteen, and an equal number of boys are sexually harassed, and the most shocking truth – half the cases reveal that a close family member is the culprit. We really need to keep our eyes and ears open.
Open Book Assignment
As the name suggests Open book assignment is a concept wherein a topic is provided, and we have to search through different books, internet etc. and gather information. We have to be aware of what information to use, and what not to use, and write an essay type answer to the question given on the topic. It does sound easy but it is tricky, because to concise and use only that information that is apt and needed, is more difficult and confusing. This assignment teaches us to think and do self study, to use our mental capabilities in understanding the relevant matter, and writing it in the correct format.
Sports Activities
All work and no play; is certainly not good. Keeping this in mind, we had our set of sports activities beginning in the month of October and continuing till January. As and when possible, we utilized our time to play games like dodge ball, badminton, table tennis, caroms. It goes without saying that we had fun, and thoroughly enjoyed competing. All thanks to our sports in charge Mrs. Smitha M, she made sure that everyone participated in one game or the other.
Navratri Celebration
On 12th October, 2013, we along with the M.Ed. students decided to celebrate Navratri festival. All the students and teachers were dressed in their finery and looked amazing. We all danced to our hearts' content. Be it garba or dandiya, we thoroughly enjoyed dancing. The icing on the cake was, when we were awarded prizes for our performances. Many of us were surprised on winning, which was least expected. It was a memorable experience.
Community Service
"Love cannot remain by itself – it has no meaning. Love has to be put into action and that action is service". On 22nd and 23rd November, 2013 under the guidance of Mrs. Bindu Tambe, we went to Shantivan Ashram in Nere as a part of community service programme. We all became accustomed to the various ways in which we could combine our efforts and work towards a cause- be it dam building, cooking, cleaning the garden, road building, talking to the Senior Citizens, interacting with the people who were weaving carpets and so on. The best part was the way we all sat together in a big circle, and shared our lunch with each other. Talking with the senior citizens filled our hearts with empathy.
The most positive experience was when the shy students also came forward and spoke openly about their feelings and experiences after community service. This proves that when the human heart is involved, the flow of words is automatic.
National Level Seminar
Pillai College of Education and Research, Panvel, in collaboration with YASHADA, Pune, organized a two – day National Level Seminar on Environmental Re-engineering Series 4: Water Cooperation on 29th and 30th November, 2013. Many experts shared their views and findings about issues related to water, water footprints, how water education in classrooms and society is essential, how to save water by rain water harvesting, and other methods, etc. Emphasis was also given to the way we drink the water, and the correct method of doing it. Six of our B.Ed. students presented papers on various topics. The seminar threw light on the various issues related to the water. It was an eye opener as it made us aware of our ignorance towards the water conservation.
Evaluation Workshop
Evaluation workshop was held on 23rd December, 2013. This was introduced to us by our Principal Madam Dr. Sally Enos. We gained information on how to make Year Plan, Unit Plan, Blueprint, Question paper and other details which are essential aspects when we begin working as teachers. We were divided into groups of our chosen methods and asked to prepare all of the above to give us the first hand experience. Our teachers tirelessly guided us through the entire process.
Action Research
Action Research is an essential part of our curriculum. This was introduced to us by our teacher Mrs. Geeta R. Thakur on 24th December, 2013. There are many problems related to education and, if there are problems, there will definitely be solutions as well. Now, how do we go about finding the solutions? This can be achieved by action research. This kind of research can equip us with the necessary knowledge, and skills to identify and solve the various problems faced by the teachers. We were asked to identify a problem, collect information regarding it, analyze and interpret the results, and suggest measures to overcome such problems. Once again, we were divided into groups and specific teachers were assigned to each group for guidance. Each one of us had to do research independently. This activity gave us an insight as to how to conduct actual research, and reach conclusions based on it.
Book Review
This year onwards a new concept – Book Review was introduced in the B.Ed. syllabus. Every student was asked to select a book and review it on the basis of the content, why the book was chosen, style of writing, message conveyed, the author, significance, why one should read the book, rate the book and so on. This was a novel idea and the first book review was presented on 9th January, 2014. Every student was given 15 minutes to present in front of the class or in their tutorial groups. Each and every book that was presented, had significance; they all had some kind of message or experience or idea that could enrich one's thought process and style of living.
Internship Week
The Internship Week commenced on 10th February, 2014. It was a weeklong programme to acquaint the student teachers with the actual aspect of working in schools. It was an opportunity to use our knowledge and skills, and apply it in the schools and colleges that were assigned to us. We were asked to interact with the teachers, the Principal, find out about the log books, attendance procedures, correct books, conduct assembly, assist teachers in conducting tests, take class and so on. The schools and colleges that were assigned were MIS, MSAS and Jr. College, CKT School and Jr. College, KES School, Karnala School, etc. This was truly a learning experience.
Picnic
On 18th February, 2014 the much awaited picnic materialized. The spot chosen was Franav Farms. It was a fun filled experience. There were lots of activities arranged for us like box cricket, throw ball, football, rappelling, filling the bucket with water, etc. The food was yummy. We all had fun, especially while playing football, the way we kicked each other instead of the ball was hilarious. At the end of the day, our throats were soar because of all the singing and screaming, our bodies were battered because of all the running and kicking, and climbing that we did, but our hearts were filled with joy and peace. Wow, this part of B.Ed. will always be remembered.
Cultural Competition
Our annual cultural competition was organized on 7th February, 2014, under the guidance of Mrs. Chitra More. There were various competitions like greeting card making, rangoli, mehendi, best out of waste, quiz, spell bee, flower making and fancy dress. Everyone had to participate in at least two events. The students actively participated showing off their various skills and talents. We all enjoyed these events, and had healthy competitions with each other.
Talk on Cancer Awareness
A session on cancer awareness was conducted by Dr. Vijay Gokhale on 22nd February, 2014. Dr. Gokhale stressed on the fact that prevention of cancer is always better that its cure. He suggested ways and means of detecting cancer, the various types of cancer, pointed out that nicotine in any form is dangerous. According to the Doctor, early discovery is early recovery. The doctor also said that cancer can be cured provided it is detected at an early stage.
Talk on Swami Vivekananda and his teachings
Mr. Vijay Kulkarni, associated with Ramakrishna Math in Pune, took a session about the essentials of life and its significance, on 31st January, 2014. He put across thoughts and teachings of Swami Vivekananda. He wanted us to give importance to human beings and human emotions, to not be afraid of anyone, to think positive and to have faith in the Supreme Being. This can help you to move ahead in life without much hindrance. These were his teachings.
Stree Mukti Sanghatna's Parisar Vikas Programme
A session was conducted on how we can manage our waste and dispose of it in a proper manner on 13th January, 2014. According to Mrs. Kalpana Andhare the things that we consider as waste, may be a resource for recycling and can be reused. She stressed on the aspects of Reduce, Reuse, Recycle and Responsibility. She made it clear that a little conscious effort on our part in segregating wet waste and dry waste can go a long way in protecting our environment. According to her, plastic in itself is not harmful but if it's not disposed properly then it leads to lot of environmental issues.
Workshop on Varicose Veins
Teaching job mainly consists of either long hours of standing or sitting. This could lead to lot of stress on our legs. Also wrong postures and excess body weight leads to tired legs. Dr. Kavita Puri conducted a workshop on varicose veins on 25th February, 2014. Here, she enlightened us to the various aspects of tired legs, its causes, its effects, how it can be prevented, what treatment can be taken, etc. Dr. Puri talked about how girls and women, many a times, overlook the problem of tired legs which could lead to severe conditions like thrombosis. She also put forward some simple exercises which could help to prevent tired legs. Her presentation technique was very clear and informative. At the end of the workshop a check-up session was arranged for all the students.
Women's Day Celebration
8th March is celebrated as Women's Day all over the world. We too celebrated this day and that too in a unique fashion. We organized a road rally along with street play in our locality stressing on the positive aspects of being born a girl child. We put across the message that women too are achievers if they are given the right kind of education and support. They are excellent managers- be it home, money, resources, man power, etc. The road rally was a great experience to many of us as we had never participated in such an event before. It was great fun and the most striking aspect was that it was enjoyable along with being purposeful.
Yoga
Yoga is an ancient art based on a harmonizing system of development for the body, mind and spirit. The continued practice of yoga will lead one to a sense of peace and well-being, and also a feeling of being at one with the environment, with this exact thought in mind we were introduced to Yoga sessions for a week by Ms. Bharati Iyer. The sessions began on 10th March, 2014. We were taught breathing exercises, how to relax and get rid of stress, how to lose unnecessary flab, exercise for our hands and fingers so that it would enable us to write our exams better and so on. We all are totally convinced that Yoga can and will be of great use to us in our coming years.
So many different and lively experiences, so much of information- this was the essence of our B.Ed. class. Every day we have to enhance our knowledge and skills. The whole year was a roller coaster ride, there were many ups and a few downs, but everything was a learning experience. Our teachers' tireless efforts to bring out the best, to involve us in every process of learning cannot be forgotten.
After all it is said "change is the end result of all true learning"
And change should always be for the betterment of one and all.
What nobler employment, or more valuable to the state, than that of the man who instructs the rising generation
These beautiful words by Marcus Tullius Cicero capture the very essence of the noblest profession of all- 'Teaching'. Teachers are entrusted with the great responsibility of creating and nurturing brilliant and intelligent minds by imparting knowledge. Though in India, teachers have always been respected by the cadre of a parent and above, there is a scarcity of dedicated and well educated teachers, especially now, to bring up the young souls as these days education has become a struggle.
Thus, to arm ourselves with the pre-requisites of becoming a part of the teaching fraternity, the B.Ed. batch of 2012-13 reached Pillai College of Education and Research, New Panvel, on 6th august 2012. Our dreams, hopes, curiosity and ambition were warmly greeted by our respected Principal DR. Sally Enos. We had a day of orientation where our principal introduced us to all our teachers and also familiarized us with the course.
After listening to Principal Madam's highly motivational speech, we were at ease to take on the seemingly impossible B.Ed. course with its jam – packed schedule. The best part of the day was our christening as "Student-Teachers", which gave us a feel of already being a teacher.
Selection of Student – Council
Any work has to be headed by a leader in order to be in right direction. So was the same for our B.Ed. course. Since there were many volunteers for the post of general secretary and the council members, an election was announced by our Principal Madam. It was a formal democratic election wherein every candidate was given opportunity to campaign and appeal for votes. All the students participated in the voting process and voted for their favourite candidates. Three council members were elected; Mrs. Sudeshna Chatterjee (academic, discipline & hygiene in-charge), Ms Alpana Sharma (practice teaching, internship, community service, picnic in-charge) and Mr. Rajesh Kumar (cultural, sports and workshops in-charge). It was a very proud moment for me to be elected as the General Secretary for this academic year.
Ms. Vrushali Hatankar, Ms. Mallika Fernandes and Mr. Hardik Dave were selected as the student managers for the extension activities.
The students in-charge for our annual magazine, "SPARK", were also announced. They were Ms. Annanya Raha for the English Section, Mrs. Aarti for the Marathi Section and Mr. Rajesh Kumar for the Hindi Section.
All the in-charges were geared up to go ahead and do their best in the various roles entrusted to them.
Micro Skills
To accomplish any task successfully, it is very essential to know the nitty-gritty's of that task. Thus in order to achieve the herculean task of becoming effective teachers, we were exposed to the intricacies of teaching-learning process in the form of 'Micro Skills' in the very first week of our college. Our teachers gave us demonstration on various skills like Set Induction, Questioning, Explanation, Blackboard work, Illustrating with examples, Reinforcement and Closure required for an effective teaching. It was their endless efforts and support that helped us to get past this tough week!
Workshop on Objectives and Specifications
Our principal DR. Sally Enos introduced the concept of aims and objectives through a workshop conducted on 8th August, 2012. She effectively made us understand how important objectives and specifications are, for the teachers as they help to define their expectations from students as well as evaluate the achievement of set objectives.
Workshop on Instructional Material Preparation
Teaching is complete only if the class is made interactive and interesting. An interesting class needs interesting teaching aids to capture and sustain the interest of students. Thus to equip us with requisite skills in preparing instructional materials, our class was led into a world of colourful and captivating teaching aids on 16th August, 2012, by Mrs. Geeta R. Thakur. The best part of the workshop was that all the resources utilized in making these interesting teaching aids were economical, easily available and the technique for making them was even simpler. Attending this workshop was like dipping in the reservoir of learning! We realized that sky is the limit if one really aspires to take the teaching-learning to a whole new level.
Workshop on Core Element and Values
Values are an important aspect of one's life. Therefore, value inculcation is a very important part of all round development of a child. Since children spend most part of their day in the school and look upon their teachers as role models, the teachers have a great opportunity to impart and instil these indispensable values in the younger minds. Keeping this in mind, a workshop on core elements and values was conducted by our teacher Ms. Tina Roy. We came to know how values are getting deteriorated rapidly, and how we can integrate and impart them through different school subjects.
Workshop on Transactional Analysis
A workshop on one of the topics of information and communication technology (ICT), transactional analysis was conducted on 11th September, 2012, by Ms. Simran Kasu, an experienced teacher – educator with a long – standing association with PCERP. Very efficiently, she made us understand the concept and the importance of this analysis in our teaching profession. By learning transactional analysis, we realized how a teacher can handle relationships with the students. We also came to know about the different ego states and life positions that an individual goes through. This workshop really helped us a lot in understanding our own nature as well as others.
Talk on Value Education
On 24th September 2012 a talk on value education was given by Mr. Rajesh Kumar. Though he was one of our classmates, his rich background in conducting workshops on value education made him the perfect speaker for this topic. He shed light on how important value education has become today for our professional as well as personal life. At the end of the session, we came out with the seven most important values to be reinforced in our younger generation as well as ourselves.
Extension Work
The extension work from the Department of Life-long Learning and Extension, University of Mumbai was introduced to us by our teachers Mrs. Geeta R. Thakur and Mrs. Geeta S. Thakur in the month of October. The 1st term training was attended on 2nd November, 2012, by our extension teachers and the student managers from B.Ed. and M.Ed. We were given the freedom to choose between the two different extension activities, Status of Woman in Society (SWS) and Information Technology Project (ITP). This extension work helped us to actively reach out to the society, and gave us deep insights into the issues existing in the society- related two very important and relevant areas today; the woman and the technology.
Simulated Teaching
There are several methods and techniques that can be used to make teaching-learning a rich and rewarding experience, for the students as well as the teachers. This was demonstrated to us by our teachers through the simulated lessons given in respective methods. Four types of simulated lessons like Concept Attainment Model (CAM), Inquiry Training Model (ITM), Role play and Creative lessons were added to our knowledge. They helped us in adopting new techniques of teaching to bring variety in the classroom. Many of us used these techniques successfully during our practice teaching.
Macro Lessons
As soon as we were thorough with the micro lessons and the integrated lesson, macro lessons were lined up for us. Macro lessons brought out the actual scenario of a school system. Our teacher Mrs. Devanshi Praveen was in-charge of practice teaching. There were 20 macro lessons to be completed by each student and Devanshi Ma'am took an extra effort to make sure that everyone completes it on time. CKT School and Jr. College, MES School and Jr. College, Karnala High School, Phadke High School and KES School were some of the schools assigned to us for practice teaching.
All of us felt Macro lessons were very important since they provided a real scenario and hands- on experience to us.
Teachers' Day Celebration
Since B.Ed. Course does not allow the luxury of time, it was a welcome change to prepare for some merriment. We celebrated the teachers' day on 8th September, 2012, with great enthusiasm and fun. The best part of it was maximum students' participation and different entertainment programmes and games that we arranged for our teachers. We felt very happy to provide some entertainment for our teachers as a respite from their jam – packed schedule.
Hindi Diwas Celebration
As 14th September, 2012 is celebrated as Hindi Diwas, we marked the day by putting together a small programme comprising speeches, poem recitation and sharing information on renowned Hindi authors, and other famous literary personalities who made our nation proud. It was a wonderful and informative programme as we realized the importance of preserving our National language.
Seminars
No fear is like stage fear; well, accept it or not, most of us have this fear in us. To overcome this anxiety what one needs is a platform to face their fear, practice and win over it. Such platform was provided to us in the form of Seminar. Seminars gave us the opportunities to present a given topic from our syllabus in front of our own peer group. This helped us to gain self-confidence, ease the tension of stage fear, improve our communication skill and also taught us to work in a team with co-operation. The first set of seminars, with four topics from four subjects of first semester, was held in the month of November, 2012, whereas the second set, with six subjects of second semester was conducted in the month of February. A group of 5 students was made among which one student was selected as the chairperson who had to ensure the seminar was conducted smoothly.
Open Book Assignments
Open book assignment is a concept where a topic is provided, and we have to refer different books and surf the internet to gather as much information on that topic as we can. An essay type answer had to be written for a question based on this topic. OBA taught us how self-study can lead to self-dependence and enhanced thinking capacity.
National Level Seminar
On 19th and 20th October, 2012, we had a two-day National level Seminar on "Environmental Re -engineering series 3, Sustainable energy for all". Different experts shared their views on environment and conservation of energy and made us aware of the degeneration of beautiful nature around us. One of the talks also made us familiar with calculating our own carbon footprints. Few of our students also presented papers on various topics during the seminar. National seminar helped us to amass a lot of knowledge about so many things related to our environment in just two days. A very rich experience, indeed, as we gained much more than what we had hoped for!
Navratri Celebration
Navratri, where we invoke the energy aspect of Goddess in the form of the universal mother, Ma Durga, was planned on 20th October, 2012. All the students and teachers were dressed up in their traditional finery for the day. After the pooja and prayer, everyone gyrated to the lovely beats of music. It was a beautiful blend of dancers ranging from very good traditional dancers to just starters. Together everyone ensured that they rock the floors of Pillai campus. We had prizes for best Desi Attire, best Dandiya and best Garba players. It sure was an unforgettable moment in everyone's life present there.
Evaluation Workshop
Evaluation workshop, held in the last week of November, 2012, made us familiar with the process of making a Year plan, Unit plan, Blueprint, a Question paper, and all those things that would be so invaluable when we eventually start working as teachers. Our Principal DR. Sally Enos gave a wonderful start to the workshop, which was further continued by our teachers. The group activities, to prepare all of the above, ensured that we master the requisite skills to become complete teachers.
Talk on Art of Survival
A talk on art of survival was conducted by Dr. Sudhakar Upadhyay on 3rd October, 2012. We came to know, how simple daily usable things can come in handy while defending ourselves against anybody who wishes to hurt us. It was a good session as Dr. Sudhakar demonstrated various defence techniques, whereas his female assistant spoke on certain gynaecology related issues related to female students that are encountered by school teachers.
Action Research
Action research, a very important part of curricular activity was introduced to us by our teacher Ms. Tina Roy in the month of December, with an objective to equip us with necessary knowledge and skills, we have had to identify and solve the educational problems faced by the teachers on regular basis. Also, we have had to identify a specific problem, collect data for the same, analyze it and interpret the results to offer some remedies or measures for the said problem. We were grouped and distributed, under our guides, for the guidance of this project work. Conducting Action Research gave us insights on how actual research is conducted at various levels.
Aids Day Awareness
World AIDS Day, observed on 1 December every year, is dedicated to raising awareness of the AIDS pandemic caused by the spread of HIV infection. To mark this day in our college, we prepared a small 10 – min skit to spread awareness and extend our support to the cause of HIV and AIDS. Our efforts to walk our audience through the range of emotions, that are experienced by people living with HIV paid off, as everyone came out to pledge their solidarity towards this issue.
Workshop on Teacher's Dress Code
A workshop on the teacher's dress code was conducted by M.Ed. intern students on 11th January 2013. We learnt about what should be the dress code for the teachers in the schools. We also came to know about what should not be included in the dress code that may distract the student. It was a very useful workshop conducted very effectively, and we could learn a lot many things from it.
Community Service
Community service work was started in the month of January 2013. We took tuitions for children of ANIKET, a boys' orphanage situated in Panvel. Everyday a few of us were scheduled to visit ANIKET in the morning as well as in the evening for one hour to teach these wonderful children. Our heart went out to them as they slowly unearthed the stories of their struggle to live a life. It made us not just halt and count our blessings, but also to reach out to the under privileged and share our blessings in order to make them truly meaningful and complete.
Alumni Meet
22nd December, 2012, brought an entirely different experience for us in the form of Alumni Meet. We were eagerly awaiting the opportunity to meet the ex-students of PCER Panvel and benefit from their experiences during the B.Ed. and M.Ed. course. The formal session included the felicitation of University Gold Medal winner in M.Ed., Mr. Anthony Gonsalves, 1st rank and 2nd rank holder at college level in B.Ed., Mrs. Bindu Tambe and, Mrs. Laxmi Ganiger. Partly nostalgic, partly emotional, our guests exhibited a host of emotions as they were presented with a book as a token of our love and asked to address the gathering. It was so evident from their speech that we all can achieve the impossible, if we dare to aspire. We were truly inspired and motive to carry forward the good name of PCERP. The PCER Panvel Alumni Association President, Ms Bharti Iyer presented the Alumni report 2011-12 and urged the ex-students to become members and contribute in the various social causes taken up by the Alumni Association. This was followed by a very entertaining cultural session; a programme comprising humorous skit, solo and group dance performances, and the fashion show put together by us to make the atmosphere light, and ensure that everyone at the gathering had a gala time and left with the sweet memories forever etched in their mind.
Solo Dance Competition
On 24th December, 2012, turned to be a very exciting and fun-filled day, as a solo dance competition, was organized in order to unearth our hidden talents and potentials. Two eminent guest judges, Mrs. Vrushali and Mr. Bhavik Veera, belonging to two entirely different genre of dancing, were invited to judge the performances. There were 9 participants and everyone performed at their best. The guests and winners were presented with a chocolate bouquet, prepared by our teachers and the students. A truly spell-binding special performance by the judges was a perfect icing on the cake!
Sports Day
Sports activities for this academic year were started in the month of October. Various outdoor events like dodge ball, kho-kho, lemon & spoon, book balancing and dumble race along with some indoor games, like chess, carom and table tennis were organized. All the activities were spread out throughout the semester, and provided a perfect opportunity for all of us to unwind after the hectic scholastic activities. A very exciting game of tug of war organized at the end brought out the child-like in all of us!
Celebration of Makarsankranti
On 14th January, 2013, festival of Makar Sankranti was celebrated. All the students and teachers looked beautiful in their traditional attire. Students belonging to different region and religion came forward and shared their views on how this festival is celebrated in their religion. They also distributed different types of sweets prepared by them for the occasion. The celebration became truly informative when our teacher Mr. Vikas Tupsundar explained the geographical importance of the day.
Celebration of International Geography Day
On 18th January, 2013, International Geography Day was celebrated. Some of the students were assigned different parts of the world and they had to provide us in-depth information as the representatives of that country. Students' did power point presentations, held talks to bring out the culture, history and tradition of different countries. The highlight of the programme was different costumes worn by the students to represent their country. We gained so much of knowledge about the varied culture across the world, and even learned to greet in different languages used in these countries.
Picnic to Franav Farms
On 24th of January, 2013, brought with it a much awaited event of the year, a one- day picnic to Franav Farms, organized and sponsored by our college. Almost all the students were part of this picnic. This place was very nice with lot of outdoor adventurous activities as well as the indoor games. It was so much fun to try our hands at different boot camp activities that tested out physical and mental strength to the core. All our teachers along with our principal Ma'am also enjoyed a lot. It was a refreshing break from the hectic schedule.
Internship Week
Internships give students the opportunity to apply their knowledge in real world environment and test their skills and enhance them further. Thus, an Internship programme was arranged for us from 4th February to 9th February, 2013, in different schools and junior colleges. Students were placed for junior college, few for CBSE schools and few for state board schools. Schools for internship were CKT School & Jr. College, KES School, MES School and Jr. College and Karnala School.
Poster and Collage Making Competition
At PCERP, we all know that awareness is fruitful only when it is followed with actions. Thus to keep up our efforts towards creating environmentally conscious humans, a poster and collage making competition was held for our students under the theme 'Sustainable energy for all' on 18th November, 2012.All the six tutorial groups were asked to prepare two posters or collages each, which will be judged and then used, to decorate the lecture hall where our National Seminar on Environment was to take place. Creative juices were seen flowing all over the place as the students came out with so many ideas that were innovative and original. A lot of conscious effort was put into making these posters/collages especially to showcase various energy related issues and their possible solutions, as the objective of the competition was not to be side lined at all in a bid to outdo one another.
Workshop on Gender-Sensitization
On 23rd February, 2013, a workshop on 'Gender Sensitization' was conducted by Mr. Harish Sadani and his team from a NGO, MAVA (Men Against Violence and Abuse). The workshop dealt with issues related to Gender Inequality and its implications, understanding difference between 'Sex and Gender' and understanding 'how Gender & Patriarchy operates as a System' and gender sensitivity. A short film 'MulichyaJatila He ShobhatNahi' in Marathi was also shown, which was followed by a healthy group discussion. This workshop was like an eye opener for all of us as we realised the changing place of women in Indian society, and how we need to prepare ourselves to cope with these changes.
Udaan Festival: 22nd January 2013
Udaan festival is organized every year by the Department of Life-long Learning, Mumbai University, as a part Extension work. This year the festival was held on 22nd January, 2013. Every college that participated in this festival had to present one street play based on social issues. Fifteen students from B.Ed. and five from M.Ed. participated in the street play presented by us, which was based on status of women in the society. Though we did not win any award, it surely was a great learning experience.
Cultural Competitions
Our annual cultural competition was organized on 6th March, 2013. The competition comprised assortment of interesting events like greeting card making, wealth out of waste, fancy dress, mono acting, paper flower making, rangoli, mehendi, spell-bee and quiz, the variety ensured that each of us could participate in at-least two events. We had a wonderful time competing against each other as the whole atmosphere was filled with positive energy emanating from the co-operation and collaboration of students and teachers.
Thus, the arduous journey of our transformation from a novice to well-groomed future teachers was like a roller coaster ride, full of excitement, anxiety, fun and fear. Though stressful at times, as we near the end of this journey, every bit of it seems worthwhile.
Finally, I would like to end this report on a positive note by quoting the inspirational words of Dale Carnegie,
"Develop success from failures Discouragement and failures are two of the surest stepping stone to success"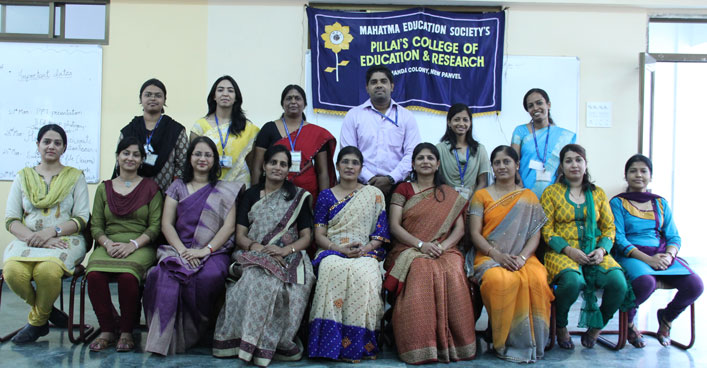 From Left to Right
Standing: Pooja Shinde, Sonia Vaid, Bindu Tambe, Laxmikant Mahamuni, Padma Palkar, Chitra Pillai
Seated: Mrs. Namrata Saxena, Mrs. Tina Roy, Mrs. Geeta S. Thakur, Mrs. Geeta R. Thakur, Dr. Sally Enos, Mrs. Bhavna Dave, Mrs. Harshani Patre, Mrs. Devanshi Praveen, Dr. Pratima Pradhan
The General Secretary's Report
– Mrs. Bindu Tambe
"Dream as you dream, remember that only you can make your dreams come true,
Reach and as you reach, remember that success takes time, devotion and at times a little disappointment,
Believe and as you believe, you will find reaching gets easier, setbacks get more manageable, life becomes more meaningful".
The B.Ed. batch of 2011-12 rolled on to the New Panvel platform of Pillai College of Education and Research on 8th August, 2011. Our luggage of hopes, dreams and attitude were given a rousing welcome by our Principal, Dr. Sally Enos. She introduced us to all our teachers and also to the course. Henceforth, we were to-be called student-teachers. The 2-day orientation programme made the B.Ed. course seem very easy and attainable. We started off with our session right away.
Selection of Student Council
The student council was selected and formally announced by our Principal madam. The members were assigned different duties and responsibilities. Mr. Lakshmikant Mahamuni (Sports in-charge), Ms. Sonia Vaid (Cultural in-charge), Ms. Padma Palkar (time-table in-charge). Ms. Chitra Pillai (Discipline in-charge), Ms. Pooja Shinde (academic in-charge) and I was selected as the General Secretary. The student in-charge for our annual magazine, "SPARK", were announced; Mrs. Nisha Pandey for the English Section and Mrs. Malti Prajapati for the Hindi Section. The student managers for the extension activities were also announced that day. Ms. Akshaya Patil, Ms. Anne Jacob, Ms. Amirunisha Shaikh, Ms. Chandni Halani.
We were all willing and ready to take on the responsibilities that were handed to us.
Micro skills
Our teachers started off with the demonstrations for micro-skills like Set Induction by Ms. Tina Roy, Questioning Skills by Mrs. Bhavna Dave, Blackboard work by Mrs. Geeta S. Thakur and Illustration with examples by Mrs. Devanshi Praveen, in the month of August itself. Each one of us gave a presentation on each of these skills, followed by one integrated lesson. This was paving the way for our practice lessons.
Workshop on Objectives and Specifications
A workshop on writing the Objective and Specifications for our lessons was conducted by Prof. Dr. Karuna Gupta on 16th August, 2011. She explained to us in simple words as how writing of the objectives and specifications are of vital importance to us as we become teachers of tomorrow.
Teaching Aids workshop
On 18th August, 2011, our class was led into a world of colourful and captivating teaching aids that our teacher, Mrs. Geeta R. Thakur ma'am presented for us under the auspices of the placement cell. We were left gaping at the wonderful and innovative ideas that can be used to make our lessons in the class lively, interesting and captivating. The best part of this was that all the resources required for making these teaching aids are easily available. This workshop also made a lot of us realize that thermocol is not good for the environment and hence must not be used.
Extension Work
The Extension Work from the Department of Life long learning and Extension, University of Mumbai was introduced to us by our teachers Asst. Profs. Mrs. Bhavna Dave and Mrs. Geeta S. Thakur and our student managers who had attended meetings for the same. This was on 28th August, 2011. We were given the options of choosing between the Status of Women in Society (SWS) and Annapoorna Yojna Project (AYP) according to our interest. This extension work is also done with the idea of reaching out to the society in our own way.
Simulated Teaching
There are various techniques that can be used by us in imparting our lessons to the students and these are called the Simulated Lessons. The orientation for the same was done by our teachers. The first one, Concept Attainment Model (CAM) was presented by our respective method teachers on 16th September, 2011. The Inquiry Training model was presented on 29th September, 2011. We also had the Power Point Presentation by our teacher Mrs. Devanshi Praveen on 7th January, 2012. The Creative Lesson was presented by all our teachers on 13th February, which was really exciting. The last of the Simulated lesson, Information Transfer was presented by Asst. Prof. Mrs. Bhavna Dave on 24th February, 2012. The simulated lessons opened our eyes to the various techniques which are simple to prepare and at the same time very interesting for our students. Some of us used some of these techniques during our practice lessons.
Macro Lessons
If we are finished with micro-skills, integrated lesson, can the macro-lessons be far behind? No. We started with the first of our twenty (20) macro-lesson at Mahatma Academy of Academics and Sports, New Panvel. Each one came out of the lesson with very different experience and these experiences determined how we proceed with our future lessons. Our beloved teacher, Mrs. Harshani Patre was in-charge of the lessons and she would co-ordinate with the schools for the time-table and syllabus and then put up time-tables for us. Some of the schools we went for our lessons were, CKT High School, Phadke High School, Mahatma School and Junior College, Karnala High School, VK High School, KES English Medium School and Barns High School. These lessons required lot of efforts on our part and at the same time, it was memorable for us.
Seminars
It is very difficult for most of us to stand in front of a class and speak on any particular topic. As future teachers, that is also one of the important aspects in our career. Seminars gave us the opportunity to present papers from our syllabus topics in front of our peer group which eased the tension greatly. It helped us to build our confidence, improve our communication skills and also helped us to work in a team. The first set of seminars was held in the month of October, 2011. There were topics given from four subjects of 1st semester and groups were made. Each group had five members and one amongst us was selected as the chairperson who kept the flow of the seminar in order. The second set of seminars were conducted in the month of March and this time again we were divided into groups and this time there were six subjects for seminar.
Open Book Assignment
In this concept, we are given a topic to prepare with the help from any books. Then we are given a question based on the topic and asked to write an essay type answer for the same. How we wish all our exams and tests were conducted this workshop.
Evaluation Workshop
The evaluation workshop was held from 16th to 19th December, 2011. We were guided through this workshop by our teachers and expert advice given by Dr. Karuna Gupta, and Principal Dr. Sally Enos. This workshop walked us through the process of making a year plan, unit plan, question paper which will prove valuable for us when we join any teaching institution as teachers. The question paper that we prepared at the workshop was used by us when we went for our Internship.
Internship Week
The Internship week was from 30th January to 4th February, 2012. We had the opportunity to do our internship at good schools in our neighbourhood like CKT High School, Mahatma School for Academics and Sports, V.K. High School, Phadke High School and Karnala High School. Here we took up proxy periods, conducted science exhibitions, decorated notice boards, took innovative teaching classes, conducted assembly, drawing competitions, invigilation and paper correction duties. We had the first hand experience of how a school works and how much work is involved in the day to day functioning of the school. It was an amazing experience for all of us.
Action Research Projects
Action research is part of our curricular activity. This involves, working on any situation that we may think is an issue at school level and also offer suggestive measures. We identified a problem, collected data for the same, analyzed and interpreted the results. For this, Dr. Karuna Gupta ma'am introduced us to action research and the ways of doing it. We all were put into groups under different teachers and provided guidance to carry out the research.
At PCER, New Panvel, the old saying "All work and no play makes jack a dull boy" is taken seriously. So, along with imparting various skills necessary for us to become efficient teachers, we also had lot of opportunities to showcase our skills, creativity and talent, some known and some unknown, through the various cultural activities.
Teacher's Day Celebration
Even though we had just started our course, we all wanted to celebrate teacher's day with great enthusiasm. The highlight of this was the participation of all the students of the class, according to what they felt they could do. We made handmade cards for all our teachers with nice thoughts and quotations written for the wonderful teachers that we have. We had a small cultural programme starting with the a small flower rangoli drawn to welcome everyone, followed by a prayer dance, a skit, a group song and some small games for the teacher. It was thoroughly enjoyed by all.
Poster Making and Greeting card making competition
At PCER, we strongly believe in environmental consciousness and the PCER Panvel Nature club puts in tireless efforts to sensitize the students to conserving resources. It was thus that we had poster making (Environment) and card making (Best out of Waste) competition on 30th September, 2011. There were three prize winners form each category.
Navaratri Celebrations
On 1st October we had Dandiya-Garba celebrations with all the students and our teachers dressed in their traditional finery and dancing to the lovely beats of the music. We had a beautiful rangoli drawn by our students followed by the traditional Bengali Devi Pooja. After this, every one of us got into the dancing mood. Some of us were seasoned dancers, some professional dancers, some amateurs and some first time dancers. We had a lot of fun and then at the end there were lots of prizes, for the best costume, best dandiya dancer, best garba dancer, best couple dancers. I am sure none of us will forget the fun we had that day.
National Level Seminar
On 19th and 20th October, 2011, we had a two day national level seminar on "Environmental Reengineering for Enhanced Living", an endeavour of the commitment to be environmentally conscious. Few of the students presented papers on the topic and we all gained valuable experience from attending it. We got knowledge about the vast and bountiful resources of nature we are all blessed with, some tips on how we can be a part of the conserving and preserving activity and also heard form experts who made a difference by their work in this field.
Community Service
It is said that a teacher has dual role to play in society. She is part of the community and at the same time in moulding the future citizens of this community. It is very important for all of us to give back to the community we are all a part of. This can be in terms of our time or even monetary help. At PCER, Panvel, we carried on the tradition of "Shramdaan". We had community service for two days, 23rd and 24th December, 2011. There were three centers chosen, Jyoti's Charitable Trust, Kalamboli, Jyoti's Terminal Care Center, Taloja and Swargdwar, Taloja. Jyoti's Charitable Trust and Jyoti's Terminal Care Center both have AIDS/HIV +ve patients but the Terminal Care center has residents who are in the last stages of their life. Swargdwar has inmates with Leprosy, who are cured and cared for at the center. They are all productive members of the society.
We were formed into groups and given orientation about the places, what is expected of us, how we were to conduct ourselves. We also got the materials needed for decorations and accordingly for two days, we went to our respective centers and gave our services in all ways possible. The activities we were involved in, included cleaning, decorating the places for Christmas, cooking for the residents, entertaining them, working on their farms and helping them in whichever way we could. They also had lot of fun and we learned to be happy with all the blessings we have in our life. We also made promises to come back to these places again and I am sure we will. After coming back to the college, we had an interactive session with one another where we all shared our experiences.
Sports Day
11th February was our Sports and Games Day. Oh! What fun we had! Sure, we had sore limbs next day but that day was absolutely memorable for all who participated. We had lemon and spoon race, book balancing, 100m sprint, relay race, long jump, discus throw, javelin throw, potato race, dodge ball and the cherry on this cake was the Tug-of-war at the end. We were tired by the end but the journey was absolutely unforgettable. There were prize distributions at the end not only for the events of the outdoor games but also for the indoor games held earlier. Prizes were given for badminton, chess, carrom.
Talk on Naturopathy and Yoga
The PCER Panvel Well-being club organized an interactive session for us with Dr. N.M. Kamath, who is a Holistic Practitioner. He spoke to us about naturopathy and gave us valuable tips of healthy living. I am sure some of are already practicing it. His simple mantra was the right kind of food, rest exercise and relaxation, we all can live a healthy life. Sure, the regime seems tough but if followed religiously, we will reap the benefits for a long time to come.
Time management Workshop
Ever since our B.Ed. course started, we all have been wishing for more than 24 hours in a day to help us cope with our work. Well, the application for more than 24 hours in a day is still pending with the higher authorities, but our college gave us an opportunity to learn about how to manage our work within the 24 hours available to us. The Time Management workshop held on 3rd March, 2012, was conducted by Mrs. Simran Kasu who interacted with us and gave us a presentation on the topic. We realized that we do have enough time to finish and accomplish our tasks if we know how to prioritize our work, how to organize our work, where we waste time, etc. This workshop, I am sure has opened our eyes to how to get things done in the available time. At least, a few of us talk a little less on the phone after this workshop!.
Alumni meet
Alumni meet, held on 3rd March, 2012, was a special programme as it involved the ex-students of PCER, Panvel. The college with its current batch of B.Ed. students and the PCER Panvel Alumni Association had organized a special programme for the alumni. This included the felicitation of our Gold medalist at M.Ed. University level, Ms. Vinita Desai and the top rankers at the college level of B.Ed., Ms. Sonia Burile (1st rank), Ms. Archana Kumari and Ms. Vandana Verma, sharing the second rank. They were presented with a potted plant and a book each. All of them were asked to share their experiences and their words were really from the heart and also inspirational for all of us. The PCER, Panvel Alumni Association President, Ms. Bharti Iyer presented the Alumni Report-2010-11 and urged the ex-students to become members which they promptly did. We also put up a cultural programme which they thoroughly enjoyed.
SUPW workshop
We had a wonderful opportunity to learn some new craft under SUPW. This was possible because of our very creative students. Ms. Chandni Halani showed how to make a chocolate bouquet with different coloured chocolates and candies. It was yum! It was also simple to make. Imagine the look on the face of a child and some adults too when they receive a bouquet of their favourite chocolates and candies. Mrs. Laxmi Ganiger showed us all how to make paper basket with old newspapers. This is a very useful item which can help us declutter our work area as well as study area. These baskets can be made in various sizes and can hold lot of things. Ms. Raksha, Ms. Rakhi and Ms. Padma showed us how to make lovely flowers from kite paper and tissue papers. It was amazing to see how simple household things could be used to make such beautiful items.
Talk on Cancer
The PCER Panvel Well-being club also organized a special talk on Cancer by Mr. Vijay Gokhale. This talk included what cancer is, what types of cancer can afflict men and women and the symptoms to look out for. He also told us of cancer institutes where screening as well as treatment for cancer takes place. The talk was well-received by all the students and we had lot of queries, both personal and general about the topic and they were all answered to our satisfaction by our guest. In the end, we were shown a video clip about the ways of detecting cancer in women, both at home as well as at the clinic.
Competitions
On 7th March, 2012, we had competitions which had enthusiastic participation from all of us and it was in the fun filled all the way. These competitions brought out a lot of hidden talents amongst us and also gave us a chance to show our creativity. We had the chance to participate in the following competitions organized by the various clubs of the college: Extempore competition, Mono acting competition, Poetry recitation competition, Quiz competition, Best out of waste, Flower making, Rangoli competition, Mehendi competition and the Caption writing competition.
Picnic
Oh, how excited we were! This year we were taken to a picnic to "Franav Farm" a beautiful place near Rasayani. All the students had a fantastic time trying their hands on adventure sports like rope ladder, rock climbing, swinging on the ropes and other such interesting events. It was real fun to end the academic session on a relaxing and refreshing note. We are thankful to our CEO and Secretary Dr. K. M. Vasudevan Pillai for making this possible. We earnestly appreciate his benevolent gesture.
I would like to end this report saying,
"Believe as you believe, you will find reaching gets easier, setbacks get more manageable, life becomes more meaningful.
There is a wonderful dream waiting just for you to make it through".
The General Secretary's Report
Mrs. Jayshree Rao

The Onset of Our Journey…
Our journey of B.Ed. started on 29th July, 2010 with an Orientation programme for all the students. The function started by praying Goddess Saraswati. An introduction of Mahatma Education Society and its institutes was given by Prof. Simran Kasu. Some motivating words and a beautiful poem were delivered by Shri A. L. Tripathi, the Dep. CEO of Mahatma Education Society's, Khanda Colony Campus. Our Principal, Dr. Sally Enos introduced us to the B.Ed. programme and its various activities to be done in the session. She also introduced all the teachers to us. We the students were given the name of "Student Teachers".
By the motivating words of all the teachers all of us were geared up for the academic year 2010-11 ahead completely unaware about how it would turn out to be. The session started and different activities were also organized along with academics.
Selection of Students Council
The Students Council was selected and a formal announcement was made, by the Principal, Dr. Sally Enos, assigning different responsibilities – Kuldeep Singh Parcha (Sports in-charge), Prasad Pagi (Cultural in-charge), Shilpa Kohli (Competitions and networking in-charge), Kavita Phanse (Discipline in-charge) and Anjali Sardeshpande (Academic in-charge) and me as the General Secretary.
The students incharge for the annual magazine, 'Spark' were announced – Reena Pandey (English Section), Namrata Rastogi (Hindi Section) and Jyoti Patole (Marathi Section). Also the student managers for extension activities were selected and announced – Mrs. Poonam Sista, Ms. Nandita Shah, Ms. Gangotri Rajpurohit and Ms. Neeta Sharma. It was a moment of pride for all, as they were thought worthy of such responsibilities and vowed to put in their best efforts.
Cultural Activities organized…
All the 100 students of B.Ed. were divided into different groups to organize the cultural activities for which the students enthusiastically participated and took pride in naming their group with various names according to the activities they were organizing.
Teachers' Day
To mark the birth anniversary of Dr. S. Radhakrishnan, Teacher's Day was celebrated on 4th September, 2010 by the students' group 'Trendsetters' under the guidance of Prof. Bhavna Dave. The cultural programme included a welcome song, Rajasthani folk song, dance performances by the students and few a games. The event was organized on a smaller scale but the group was appreciated for the efforts and the event proved to be a platform for highlighting the creative talent of Ms. Neeta Sharma through her greeting cards. The 'Trendsetters' truly set a promising trend for forthcoming events.
Navratri
The devout festival of 'Navratri' was celebrated on 9th October, 2010 as "Garba Day" by the 'Navras' group of students and Prof. Geeta S. Thakur. The event progressed with pooja of Maa Durga done in Maharashtrian and Bengali style, followed by Dandiya played by students and teachers having a gala time together. The festive fervor was at its highest with Poo Kolam (flower rangoli), Diyas, Ghat and Bandhani Dupattas. 'Aarti' to Goddess Durga and 'Prasad distibution' were done to conclude the function.
Children's Day
On 13th November, 2010, the Children's Day was celebrated under the direction of Prof. Harshani Patre. The students' group 'Kaleidoscope' organized various competitions like quiz, elocution, jhatpat snacks, rangoli and mehndi making, best out of waste and greeting card making, etc. The event proved to be a podium for displaying the hidden abilities of all the student teachers, proving the worth of the name 'Kaleidoscope'.
Alumni Meet
Prof. Geeta R. Thakur and her group of students 'Vibgyor' took the task of organizing the 'Alumni Meet' on 18th December, 2010, for which all the ex-students were invited. The toppers of the previous year were felicitated and potted plants were gifted as mementos. An exclusive blog designed by Asst. Prof. Bijoy Thomas for the PCER Panvel alumni was inaugurated. The cultural part included the regional and folk dance performances, skit on AIDS, etc. and the message given that although all of us are like the different colours of a rainbow, we belong to the same 'Family' of Mahatma Education Society.
Annual Sports Day
The true spirit of sports was on the air on 15th January, 2011, the Annual Sports day organized by the students' group 'Strikers' and Prof. Bijoy Thomas. The event started with a Pooja of the ground and Oath taking by all the students to abide by the rules and regulations. The Indoor events like, carom, chess, etc. were organized. The outdoor events held were 100 m race, relay race 400 m, book balancing, potato race, sack race, marble and spoon race, long jump, shot put, javelin throw, kabaddi, kho-kho, etc. and finally, a tug-of war. Many of us were playing after so many years, hence, the initial apprehension was removed by the end and tug-of-war proved to be an enjoying moment for all. The games played with sportsmanship gave all an opportunity for bonding and strengthening our relationship.
Some enlightening experiences…
Information and Computer Technology in Education
On 21st August 2010, guest lecturers Mr. Kannan and Mr. Milind Kulkarni of 'CampusOne' introduced us to the use of ICT in education and how the lessons can be made more effective and lasting impressions could be made on the minds of the students using powerpoint presentations, flash, etc. The talk gave us a stimulus to use technology to enhance the teaching process.
Adolescent Health Challenges
The talk organized on 8th September, 2010 by Dr. Janki Patil, a gynaecologist and a member of FOGSI (Federation of Gynaecologist Societies of India), Navi Mumbai, laid emphasis on sex education in adolescence. She brought to our knowledge that unhealthy food habits negligence of hygiene, diseases like anemia, thalassemia, AIDS, etc. are a threat to future generations and emphasized on "Prevention is better than cure" by following exercises, yoga and other precautionary measure.
National Seminar on Environment
A two day National Seminar on Environmental Re-engineering for Enhanced Living was organized on 1st and 2nd October, 2010 by PCER, New Panvel (B.Ed. and M.Ed.). The seminar emphasized on the use of eco-friendly and economic practices in our routine life and stressed on the role of teachers to bring the change. It stimulated our minds to rethink and move forward to bring about the transformation and try to save the environment for the survival of mankind and earth.
Yoga and Meditation
On 16th November, 2010 a yoga and meditation talk was delivered by Mr. Kishore Tawadia and group, of Samarpan Dhyan Shivir. They explained how stress deteriorates our health, lives and overall personality of an individual. He laid stress on the balancing of the Chakras in our body. These chakras would work in harmony only if we follow a healthy diet and meditate regularly. Meditation not only helps to lead a peaceful life but also helps us to control our emotions, concentrate on our goals of life and make the earth a 'heaven' to live.
AIDS – a social problem
A team of Jyothi's Charitable Trust, Kalamboli, with Sister Superior explained as to how HIV/AIDS is a social threat to the survival of man. They also explained the causes and precautionary measures to be taken care of. They emphasized on how 'we' can help the sufferers of this monstrous disease and how Jyothi's Trust is rendering services to those who have been abandoned by their families. The talk held on 23rd November, 2010 was an orientation for our community work, an indispensible part of our B.Ed. curriculum.
Independence – The Art of Survival
On 11th January 2011, Dr. Sudhakar Upadhyay and his team gave a talk on the crime against women in our society and the causes of stress in the lives of women. He emphasized that women should be aware of their rights. He guided us on how to fight against the crimes with various self-defense techniques. He accentuated on the independence of thoughts and confiscating stress by regular exercises, yoga, aerobics, providing first aid in case of medical emergencies.
Teachers in the making…
As mentioned in the great Dravidian literature, Thirukkural, "Whatever is thought to be done will be achieved as planned, if the planners possess firmness in execution." Our teachers had a very beautiful and effective way of making us learn the very minute nuances of the art of teaching. They helped us climb the hill putting forth small steps with ease. The various skills of Practice Teaching were taught by organizing some workshops and orientation programmes, in accordance with the inspirational words of Dr. K. M. Vasudevan Pillai the CEO of Mahatma Education Society, "A nation better taught is a nation better empowered".
Workshop on Objectives and Specifications
A workshop on writing the criteria of objectives and specifications of classroom teaching was organized by Prof. Geeta R. Thakur on 7th August, 2010, which helped the students in writing their lesson plans with ease.
Micro-skills
An orientation of micro-skills of teaching was given to us by our teachers. Micro-skills like, Set Induction, Questioning skills, Black board work and Illustration with examples were taught in the month of August, 2011 and thereby prepared us for practice teaching.
Teaching – aids workshop
The college also held a teaching-aids workshop on 21st August, 2010, wherein Prof. Geeta R. Thakur taught us how to make and use teaching-aids effectively. She gave very beautiful and innovative ideas to make use of the easily available sources at home and the best use of waste material. She also insisted that materials like, thermocol, etc. should not be used as it is non-biodegradable, thereby stimulated us to be eco-friendly in all our activities.
Extension Work
The Extension Work from the Department of Life-long learning and Extension, University of Mumbai, was introduced to us by the Student Managers and Asst. Prof. Bhavna Dave and Anoja Suvarna on 10th August, 2010. We were given the options to select the Projects Survey of Women's Status (SWS) and Information Technology Project (ITP) according to our interest and at the same time, it should be of some help to the society in disseminating the knowledge.
Simulated Teaching
The Orientation of Simulated Teaching was done by Asst. Prof. Bhavna Dave on 2nd September, 2010 with the technique of Information Transfer. The Creative lessons in all the subjects were introduced on 22nd October, 2010, in a workshop by all the teachers. The use of computer technology in teaching by the use of PowerPoint presentation was given on 12th November, 2010 by Asst. Prof Bijoy Thomas. Another technique, Concept Attainment Model was oriented on 24th November, 2010 and finally, Inquiry Training Model on 22nd January, 2011. The simulated lessons added a new dimension in the traditional methods of teaching.
Seminars
It was a step which once again proved to be milestone to build our confidence, improve the oratory skills and face the audience to solve their queries. It also gave a platform to all the students for group work and helped us to modify our behavior for effective presentation. The seminars were held in the month of December, 2010.
Community Service
On 23rd November 2010, a talk on AIDS awareness by the team of Jyothi's Charitable Trust, Kalamboli, oriented us to the Community work to be done as a part of curriculum. The Community service was done by doing Street Plays in different areas of Panvel, New Panvel, Khanda Colony and Kalamboli on the World AIDS Day 1st December, 2010.
Open Book Assignment
It was a new form of examination for all of us which involved a difficult task of searching the notes and writing the exam looking at them. Never the less it was great fun to start with, in the new year as it was held on 4th January, 2011.
Evaluation Workshop
The final stage of teachers in the making was the Evaluation workshop held on 8th January, 2011. It involved the valuable inputs of Dr. Karuna Gupta, Asst. Prof. Bijoy Thomas and Asst. Prof. Geeta R. Thakur. It gave us the knowledge of various aspects of evaluation process and prepared us for the Internship week for all the students from 24th – 29th January, 2011. We got the opportunity to do our internship at Mahatma School of Academics and Sports, CKT High School, V. K. High School, Phadke High School and Karnala Kigh School.
Picnic
Giving an end to a hectic session on a recreational note, a picnic was organized on 24th February, 2011 at Panoramic Resort, Karnala. The resort is nestled in the Karnala bird sanctuary, surrounded by the greens of nature and majestic Sahayadri Mountains. All the students had a gala time. It was a real fun to bring out the end of the session on a relaxing and refreshing note and to start the preparation for the forthcoming second term examination.
Thus, the "efforts in the making" came to an end with the completion of the session. Signing off this report, I feel it's really very easy to learn if the atmosphere around is conducive. The rich learning experience at PCER Panvel has left a permanent mark in all our lives and definitely has struck the affective domain of each and every student. Truly said, "The learned teacher makes you enjoy learning; On leaving, makes you keep thinking of his teaching". And proudly we say, we are now the true 'Pillaites', a family still to grow larger and larger.